For Jan's Healing Sessions
Jan provides both in-person and remote (also known as distance) healings. If you'd like to schedule a healing after reading the testimonials and reading through the site, click here for a remote healing.
A new offering is her private Facebook group and weekly Zoom meeting to help those suffering from post-COVID syndrome, Qigong for long-COVID (click to join). Be sure to see the testimonials in a separate group, below!
In these two videos, Jennifer, a cancer patient with stage 4 metastatic breast cancer, describes her experience with Jan's qigong healings.
Click to watch Jennifer describing how qigong helped her get an earlier release from the hospital when she had pneumonia, an undiagnosed fever, and a racing heart.
Click to watch as she explains how qigong helps improve her post-chemotherapy experience.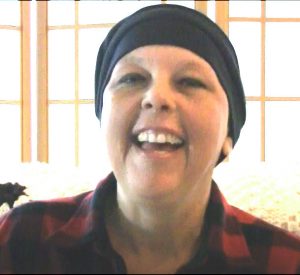 Ms. Merin from Wales, a long-Covid sufferer, describes how Jan's remote qigong healing resolved her problem with debilitating lung pain.
Ms. Philip from Greece, a long-Covid sufferer, describes how Jan's Qigong resolved her problems and helped her get back to work.
"Feng shui for your body." D'Anna found relief from her dry eye and hamstring pain. She felt the energy.
Other written testimonials for healings (remote & in-person healings are noted)
Remote Healing: "In September, I had a right thyroid lobectomy and a nodule removed from my left lobe. My first thyroid sonogram in 2003 showed a small lesion on my left and a small lesion on my right thyroid lobes. Over time more nodules developed on the right lobe with a total of 4 in 2017. In January 2020 one of the 4 had significant change and growth. A biopsy showed a high suspicion for thyroid cancer. Jan did 8 healings for me prior to surgery. My pathology following surgery showed only 2 nodules on the right lobe and NO cancer. Two of the nodules had completely disappeared. I attribute these good findings to Jan's healings because there is no other explanation. The doctor expected to find cancer! My TSH is now normal and I don't need to take any medications! Jan also recommended that I choose a surgeon willing to try to save as much of the thyroid as possible due to the difficulty of trying to regulate hormones when the thyroid is completely removed. I am very grateful for these healings!!"
In-person Healing: "I kept getting this internal message that I should try qigong. I finally got the opportunity with Jan Tucker. I have been dealing with a lot of physical issues. I discovered from a scan that my whole gallbladder was filled with stones and I would have to have it removed. I got a Qigong healing from Jan, and she also showed me exercises to do to support my liver and gallbladder. I got a follow-up scan, and the result was that there was only one stone and that there was no need for surgery at this time! Needless to say I was delighted! Since then I have become a regular student in Jan's online Qigong class, and I try to practice every day."
Remote Healing for Bill, Qigong movement class for both (long term), and Level 1 Qigong students: "Jan, Thank you for being a beacon of hope & confident support. We cannot put into words what your Qigong practice and healings have meant to us. You've provided a pathway that remains consistent and productive for us. Grateful to join you in the journey. Namaste."
Remote Healing: Jan in California, Vicki in Prince George, Canada: "I've been receiving healings from Jan for a few months now for several health issues acquired over many years. One of those problems is my knees, in particular the left, which have been painful enough that I haven't been able to do any yoga, hiking or dancing for the past year. Last month during one of Jan's healings I felt a big release in my left side and for the rest of the day could feel the energy moving on the left. This was a first. Since then, my knees have been much more stable and I've able to walk for half an hour without pain.
I feel lighter after every one of the healings. For example, before today's healing I felt discouraged with life. Then at some point during the healing there was a weight removed from my chest making my breathing much easier and brightening my outlook on life. Many thanks to Jan for her continued support."
Remote healing: "I just wanted to give you a final update on my rib/shoulder pain. All gone! I would say the treatments were successful in supporting my body in healing itself. Thank you for your care and expertise.  It worked!"
Note from Jan: Lori had fallen and developed some restrictive pain. She was on her way to Orlando from San Diego on a business trip where she had to work with her company's members all week during a busy conference. We started working on her pain immediately, the day before her trip. During the flight the next day, she used a Qigong technique I gave her for back pain. Once she was in Orlando, I did two follow-up remote healings to solve her pain issue. She was able to work all week at her conference.
Remote healing: "The best way I can express how I have felt since is that I have a strong back. I sit higher, walk straighter, and am less interested in the judgmental thoughts that pop into my head, about myself, or other, or from others. Each time I caught myself in a judgment yesterday and today I felt my solar plexus tighten and my mind say, "It just doesn't matter. So what? Let it go. Be Happy." I do not now wish that this feeling continues, and I do not doubt it, either. I do not have the need to wish or doubt. What I experienced is a reminder of what my heart and my mind in sync are capable of. Thanks so much for this healing.
Remote healing: "My name is Sue and I live just east of London in the UK.
I had been battling to get a bamboo cane out of the ground in my garden when I pulled all the muscles in my back. The pain had ripped through me and I was having trouble walking. The pain was in the middle and lower parts of my back. The weight of my body when I slept was having an effect on my sides just above my hips which was most apparent when I got up in the morning. I was going to the chiropractor but progress was slow.
Jan suggested a remote Qigong healing and I jumped at the chance remembering that she had healed me of a bout of influenza once when we had been together in LA. I knew she could help. We set up a time for a Zoom meeting, bearing in mind the time difference between the US and England.
Jan asked me if there was anything else I wanted to work on and I told her I was having trouble sleeping., with alternate nights of sleep and sleeplessness.
Whilst Jan did her healing, I sat meditating. I felt very peaceful and was aware of a warmth in my back. After she had done her part she put on a guided Qigong meditation which continued the healing. I could feel the power of the meditation and was aware of points of energy in my back. After that I went to bed and looked forward to how I was going to feel in the morning. I had a great night's sleep.
When I woke in the morning, I was able to sit up quite easily and realised that the pain in my middle and lower back had gone. The effect of my weight on my sides was easier, but still painful. I still found it hard moving around first thing in the morning and so asked Jan if I could have a second session which she agreed to.
After the second healing, the discomfort in my sides continues to improve quickly, considering the damage I had done. I have slept soundly ever since, which is for about a week now.
If you are considering a remote healing, with Zoom or without, I can tell you that it works!
So Thank you Jan and Qigong!"
In-person healing: "I had an ear infection which caused pressure to build up in my right ear. Because of this I couldn't hear very well out of that ear. Jan did a qigong healing session on me. During the healing session I noticed a tiny pop in my ear. I didn't think anything about it at the time. About 30 minutes later, as I was driving home, I felt another pop and then another one. My ear continued to pop numerous times releasing the pressure that had built up. As the pressure was released my hearing improved. Within an hour my hearing was fully restored. I'm usually hesitant to try different healing methods, but this was truly amazing."
In-person healing: "Hey there! Want to fill you in on all the medical stuff after all the processes you did…well I had a CT scan, scoping, and a bladder and kidney flushing. The conclusion from the docs—couldn't find anything visibly or functionally wrong other than my bladder spasms—I can't thank you enough for everything, Jan! It was amazing! No more pain either—blessing to you, friend." Linda [note: Linda was having bladder and kidney problems, including kidney tumors.]
In-person Healing: Jan did a session for Aric's knee, which was about to stop him from running for his school track team. Eight months later, Aric's mother said, "Aric's knee is great since your healing and he had a phenomenal cross country season. He almost made the cut to go to State with the team. He has not worn his knee brace since last school year. We're running a half marathon together in January. Thank you!"
Remote healing: [Jan did a session for her great niece soon after she arrived in Spain with a terrible cold (which turned out to be mono).] "Thank you so much for doing a healing session for me! I am just about to go to bed but am finding myself feeling very tranquil and optimistic about tomorrow. I think I will wake up feeling brand new. Thanks again for thinking of me, I really appreciate it!" [Her mother explained later that Madison actually had mono, and recovered much more quickly than the other students who had it.]
Remote healings (approximately 3): "I can ride my bike again! My knee is so much better. The pain and stiffness are gone."
In-person healings: [Al came to Jan with terrible sciatic pain running across his lower back and 'shooting down' his right leg. He was very upset that he could no longer be active. This pain came from long-term construction work. This is what Al said after the first visit]:
"No more pain shooting down my right leg. I just have back pain now."
[This is what his fiance, Viola, said after Al's second visit]:
"Al is doing really well. He's back going to his baseball practice twice a week, bowling once a week and now he's going to start playing pickleball. So yes, he's doing well! Thank you so much!"
In-person healing: "The Qigong healing you performed was very effective. It helped strengthen calmness, confidence and focus. It also enhanced an experience of being content and situated. My research work greatly improved after my first session. I will be interested in more Qigong sessions." [Vipin brought his wife for a session when he returned for his second session, and is planning for Jan to work with his mother in India for long distance healings.]
In-person healing: "The stiffness is gone!" [Robin walked back and forth across the room and was delighted.] "I was walking like this this morning [as he bent over and walked with pain showing on his face]. And now I have a full gate!"
Followup after he flew home: "After our session I have not had any major flare-ups, just stiffness and some very mild pain. I did not have any problems flying back home, just some stiffness handling bags. Upon my return home my doctor ordered some physical therapy which I have attended two sessions so far which seems to help. The long and the short of it is my back felt a whole lot better after our session! Thank You!" [Jan did one, 15-minute session during a conference Robin was attending with her husband. It was rushed because he was on break.]
Remote healings (only one was in-person): [Speaking for herself and her husband (she was having chronic pain and he had a serious case of shingles)]: "For me, I did not have much, if any, any pain today! I was so great being able to go about my day without feeling stiff and sore. For Don, his lower back pain has subsided quite a bit. His face had good color, too."
Following a later healing: "My wrists and the balls of my feet do not hurt! Lower back feels stronger. Hamstrings are a bit tight, but overall I feel really good!" [After another session]: "My hamstrings and I appreciate it!! They are better."
Subsequent healings: "Jan has been conducting Qigong distance healing on me for several months now, and it's been going great! Jan is a wonderful, compassionate, gifted healer who has truly made a positive impact on my physical, emotional, and spiritual well-being.
I have to say that at first I was skeptical about the distance aspect of the healing, as I was convinced a healer had to be in person to be effective. But then I tried it, and I must say, I could feel the results in a big way. Jan's practice is to start with a phone call, providing me instructions for the session. We hang up, and then I relax and Jan goes to work- remotely. It's amazing! Within a few hours of a healing the pain in my body parts diminishes significantly or goes away entirely. My regular sessions with Jan help to keep the energy in my body flowing through me smoothly, removing any blockages that cause pain.
I've seen such great results that I scheduled sessions with Jan for my husband and 87-year-old father. Neither of them really believe in energy work, but they cannot deny how much better they feel after a distance healing session with Jan.
If you are experiencing bodily pain of any kind I strongly recommend you contact Jan to schedule a distance healing session. The price is super reasonable for a 30-minute session, and your body will thank you for it."
In-person healing performed at a health fair (not a quiet place): "I was suffering with severe low back pain. I worked with my chiropractor and did receive some relief. However, after having a healing Qi gong treatment with Jan, within a week my pain was gone! I was now able to carry my grandson and resume my life! Jan has amazing energy and is a gifted healer. Thank you Jan!!"
Remote healing: Jan is in Calif and Robert is in Georgia: "I could feel energy and almost like pulsations in my eye and back in particular but moving through my legs and out my feet as well. WOW!!"
Remote healing: "Neck still good, in spite of the fact that I wrote letters using my phone this morning, which usually makes it hurt more. My knee feels great! Thank you so much!"
Remote healing: "Qigong calms me and helps me to release fear and pent up stress. It helps me focus in on the healing process within myself spiritually, emotionally and physically. I think it helps with muscle tone too. I had an unexpected intestinal surgery last summer which was quite shocking because I do a lot to care for myself spiritually, emotionally, relationally, physically etc. But it was allowed for me, and I sought out Qigong to help in the healing process. It has gone well.
Last Thursday, I had oral surgery. Again, not what I would have chosen and also surprising and discouraging as I do a lot to care for myself with oral health too. But I have had a good recovery. I have been doing the moving of yin and yang and allowing my hands to linger in that area to pull any blockages out of there and put in Love. I do several of the other movements each morning also and at different times during the day if I am feeling unsettled.
Thank you Jan!"
For Jan's Movement & Meditation Qigong Class (60 minutes)
You can sign up for the class here. No weekly commitment. Come when you can.
Online class: "Thank you so much for giving us a taste of qigong last night. It is everything I need right now, exercise, meditation, relaxation. The exercise gives us energy to carry us through the day and the meditation is a nice way to start the day. I definitely will be joining you at the next class. Thank you so much for taking the time to share your expertise and for caring enough to help us to be healthy."  [After Patsy's fifth class]: "I know this is helping me!"
Online class: "That was a great class, Jan. You explained everything really well. Your voice is so calming and soothing." [After Brenda's fourth class]: "I enjoyed the class tonight. I love the uplifting things you say during the movements. Your voice is so soothing during the meditation. You're a natural at this."
Online class: "I really felt the energy! My body got hot! I was actually sweating. Jan is amazing." [Qigong is not a strenuous exercise—Helen's feelings resulted from previously stagnant or blocked energy beginning to flow].
After Sharlyn's second online class: "Wonderful class tonight, Jan. I look forward to many more. Thank you. Slept like a baby last night. Wonderful!"
After Sharlyn's fourth class: "Jan, I LOVE Qigong. I felt the tingling from the ball of light and fell asleep the last two weeks during the end of meditation I was so relaxed. I am thankful for you sharing this healing, positive force with us. God bless you."
Online class: "I LOVED your class. I'd like to include it in my workshop. Brilliant!"
A year later: "Jan's class is making a difference for me. I am taking the 100-day challenge but in a very modified way that only takes me 7 minutes every morning. I have more energy and hardly need naps anymore. I have good energy through the evening. I'm prety shocked about that, because my energy usually fades through the evening. I still lie down to rest, for the fun of it but not with a great sense of need. I often forget to nap!
Jan is a good teacher at helping to understand how Qigong works, opening up energy channels for the body to heal itself."
This happened for a Movement class student: "Hi Jan, when it rains, it really does pour. I had to call 911 on Tuesday night about 10, my husband passed out in the shower and it was pretty scary. He went into shock and I forgot what that looks like, I thought he was dying. We got home from the hospital about 4 am. He's okay now. I was frozen mentally and couldn't even pray for God's will for him or me. I zoned.
When I was in the zone I felt protected but unable to feel any other messages or sensations. So I believe that I acted my way through it calmly because of Qigong. More importantly I did see you and hear you. The stability that you and the practice provide came through. Thank you."
Online class: "Such a wonderful class today. I feel so energized and serene at the same time. I have great faith that my health issues will resolve perfectly. We all so appreciate you taking the time to share your gifts with us."
Online class: "I really enjoyed the Qigong class! I felt really good this morning mentally and physically. I felt a big difference. I felt some clarity."
Online class: "Thank you for the introduction to Qigong! It was very relaxing! It reminded me a lot of yoga without the hard movements or even Tai Chi. I really enjoyed it."
In-person class: "I heard about qigong about a year ago but couldn't find any classes nearby. I ended up meeting Jan at one of her speaking engagements and was delighted to hear that she would be teaching classes in Temecula. Having attended some of her classes, I definitely recommend this ancient energy healing to those of you who have not tried it yet! I keep going back because I enjoy Jan's classes so much."
Testimonials for long-COVID support group (see link above to join; we'd LOVE to have you!)
After a tiring day at work I returned home tonight and decided to do a little qigong practice. I did the warmup and then I started with the first movement, moving the yin and yang. I felt my arms tired but I kept doing the circle movement with my hands. And suddenly I felt something warm in my palms, but it wasn't my palms. I felt something warm that was moving with my palms. And my hands started doing the movement easily, without blockages. I'm doing qigong more than two months. I had felt my body warmer during my practice but I had never felt like tonight. So, the energy is here! And we can move it and use it for healing! I was very hesitating when I met Jan Tucker and heard her to talk about qigong. Now I'm very happy that I learned about it!!
Thank you Jan Tucker so much! I have rarely met people like you in my life!! Hope people come and join our group and make a positive powerful group! It s a long and hard work to stay positive when you have long covid but it's worth it!! And i believe qigong and meditation will help me keep control of my thoughts and choose the positive ones!!
I came to last week's session and it made me feel so much better after I have been struggling with extreme fatigue, dizziness and loss of appetite post Covid. I truly believe in the power of meditation, of healing through our energy, to renew ourselves day by day praying and moving our body to generate the Qi energy – vital for life. Everyone with long-Covid should be doing this practice! I'm a regular now!
Thank you, Jan Tucker, for that great first session of QiGong! I enjoyed it and found it to be beneficial!
Hi Jan,
Thank you ever so much for your kind and lovely email.
Thank you for your inspiring and healing sessions.
Thank you for helping us all.
I look forward to joining you next Saturday.
With best wishes and many thanks,
Christine xxx
Thank you so much for letting me join your group. I feel like I've done a workout today. My mind feels clearer and I'm warmer and it loosened me up. I really enjoyed the tapping during the warmup! I'll certainly be back for more!
NOTE FROM JAN: Jennifer attended today and she is only 7 weeks in after contracting Covid. She is still extremely fatigued but she was able to do most of the techniques and movements we did today. She visualized doing the last movement. Visualizing is just as powerful as doing when it comes to Qigong. That's why athletes visualize themselves going through the movements for their particular practice, along with winning. Visualization works just as well as doing it! You get the same benefits!