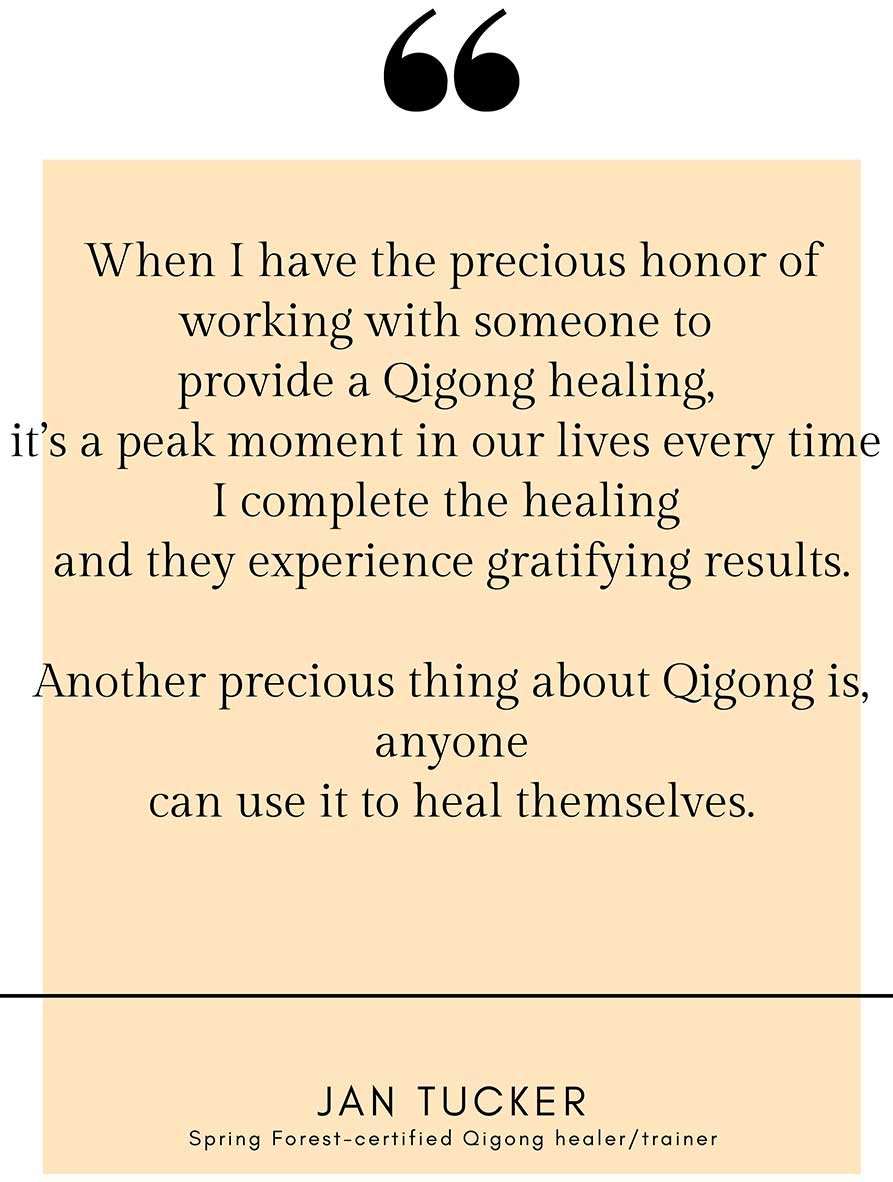 —You have a natural ability to heal.
You just need to know how to tap into it.
Qigong energy healing is a 5,000-year-old method you can use to do just that. The Chinese word Qigong translates to working with your vital energy. With Qigong, you cultivate more energy in your body—you increase the energy that nourishes every organ in your body, every organ system, and every muscle, tendon, ligament, body tissue, and body part—all the way down to the individual cell level.
Your organs and cells need two forms of energy to thrive:
From the food you eat in the form of nutrients
From your connection with nature—the sun, the air we breathe, water, and the earth in the form of Qi energy
Cells use this energy to perform optimally so your entire body can perform its best work.
When your cells don't receive the energy they need, your body reacts by becoming ill, or exhibiting pain and even emotional or mental imbalances. At first, the issues are acute and easily overcome (think colds, flu, minor pain, sadness). But when we continue failing to provide the body what it needs to thrive, we end up with chronic illnesses or chronic pain (heart problems, arthritis, diabetes, debilitating pain, deep depression, and more).
Mother Nature is there to nurture us. But for centuries, science has focused solely on symptoms and physical aspects of healing. We've been cut off from the important emotional aspects of nurturing ourselves, and we've been taught to seek relief from pharmaceuticals rather than taking advantage of our built-in natural healing methods. The two methods of healing work best together. They're complementary. We've forgotten our essential connection with nature, with the universe, and with each other. This class will help you to regain that essential connection.
Qigong reconnects us with natural methods of energy healing. It focuses on the cause of illness, pain, and emotional imbalance. Specifically, it removes energy blockages that occur in the meridian system. This system delivers much-needed energy through our body to every cell. Qigong works like acupuncture but without the needles. It works from the inside out. There are no side-effects with Qigong—only benefits.
Scroll down below the registration section to see what students say about Jan's Level 1 Qigong class.
Start now to learn Qigong and improve your life!
Jan is teaching Qigong Level 1 for Healing, this time together with Kathryn Hanson, also a Spring Forest-certified trainer. When you click the button in the box on the right, you can read both of our bios on the Spring Forest website.
This ONLINE class will teach you simple Qigong energy healing techniques and Qigong movements you can use to:
Heal yourself, from issues of the body, mind, emotions, and spirit (it's completely holistic)
Resolve your health issues large and small, chronic and acute
Boost your immune system to fight off all types of body invaders
Prevent new health issues from presenting themselves
Heal other friends and family members in the same way
You'll also understand what causes your health issues and why Qigong works so well.
Waiting List for Qigong Level 1 for Health Class
Here's What Jan's Students are Saying
We have been continuing with Qigong, doing our 100 day daily challenge and are actively healing ourselves when we need to. Jan is an excellent instructor who serves as a bridge to the way of Qigong with humility and grace. She is an asset. We want to attend level 2 classes as soon as possible.
I really enjoyed the classes with you!  You're such a nice human being, your energy is beautiful and it does make a difference in the class.
Tonight's class was awesome! I just talked the ear off my son with all we're learning! I am more certain that I am in the right place!❤️💗❤️
Aside from Jan's open and calm disposition, we appreciated the method of delivery and how we had open dialogue as a group. Our favorite part was the moment we got the chance to practice conducting healing. The sword fingers were amazing. And we are amazed.
I liked the basic principles presented for level 1. Being a spiritual individual, I especially like the appeal to a higher source who would aid in the healing process. That connection is something I don't see in other qiqong approaches. Also liked the process of the active exercise and the areas that are opened by the energy flow and the meridians that are opened. I liked the discussions that Jan led.